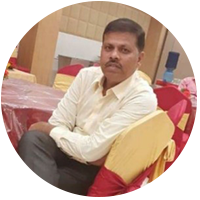 Languages - English, Hindi,
Address - Suddhipur Shivpur Varanasi, Varanasi, Uttar Pradesh, India
Classes
Board : CBSE, ISC
Class : 11, 12
Subject : Accountancy, Cost and Management Accounting
Mode : Online
Hourly Rate : 2 PM to 11 PM
About Sunil Kumar Singh
I am Sunil Kumar Singh. I am basically from Varanasi, Uttar Pradesh, India. I was born and brought up in Calcutta, West Bengal, India. I got my primary, secondary and senior secondary education in Calcutta. I have completed my graduation from Calcutta university. I have completed my post graduation ( M.Com ) from SVSU, Meerut, Uttar Pradesh, India. I have also qualified CA Intermediate from The Institute of Chartered Accountants of India.
I have taught continuous 15 years in Calcutta. I shifted to Varanasi in 2018. I love to teach business accounting very much. My strengths are I am self-motivated, hard working, ambitious and a disciplined person. My short term goal is to attach with a reputed online teaching platform and my long term goal is to achieve a good place in online teaching platform where I can build my career positively and help the passionate students to achieve their goals and dreams.
So far I have taught large number of students. Many of them are successful professionals and educationists who are giving their valuable services in India as well as abroad.
Initially, I started my career as a junior accountant in a CA firm (Roy and Bagchi group) but thereafter I moved to teaching field as my career. The reason of this move from a CA firm to teaching field was my soft communication skills and interactions.
My teaching style is very simple and unique. I usually start my lessons with important theoretical discussions and short concept capsules (illustrations) to explain the different rules and provisions of that particular lesson. Then I gradually move to medium type questions and finally move to harder type problems related to that particular lesson. All my concepts and explanations are mostly based on live examples which students to understand the concepts efficiently. For this purpose, I provide short examples on the screen to the students and medium and harder type problems also. Similar, approach is followed in case of Cost Accounting, Management Accounting and Financial Management also.
I therefore hope that you all students will surely get benefits from my side.
That's all about me.
THANK YOU.